Raleigh Construction Video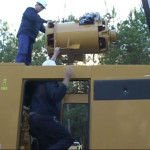 In Raleigh, Construction Videos are an integral part of the training process. When the building is turned over to the operations team, they are absorbing a barrage of training from a variety of vendors while, at the same time, putting systems and procedures into place for the new facility.
A training video of the operation, maintenance and troubleshooting of the fire, electrical, mechanical and HVAC systems is essential for the new staff to have available for review. In fact, often the staff has not been fully hired as the  building turnover process begins.
What should you ask when hiring for a Construction Video:
Does the Videographer:
Use a UHF frequency or a 2.4 GHz digital band Wireless Microphone? (VHF tends to pick up more interference, especially as you move around the site)
Use a camcorder that is good in low light and carry additional on-camera lighting? (if an instructor is pointing to a part inside the equipment, you have to be able to see the part!)
Use a camcorder that has optical image stabilization? (you don't want your viewers to get seasick as you move around)
Back up your video with a second recording device? (power surges and loss of power can occur; tapes, discs and cards can be corrupted)
Create MP4 digital files with chapters for each topic?
Back up the recording before shipping the final training MP4s? (have you ever had a shipment lost or damaged?)
Travel
Have References. CHECK THEIR CONSTRUCTION VIDEO REFERENCES!!
– Was the videographer on time?
– Was the videographer prepared?
– Was the end product video of high quality?
Or, if you want to speed up the process of hiring a construction video expert, just call Carolina Custom Video at (919) 319-6888.
Experience
We have worked with numerous construction companies to create effective training videos including:
Schneider Electric
Moonlite Electric
Choate Construction Company
JTM Consulting
Wells Global
Crowder Construction
DeVere Construction
Gregory Poole
Helix Electric
Topic: Raleigh Construction Video