Carolina Custom Video is proud to be the exclusive dance recital videographer for City Ballet's 23rd annual performance of Tchaikovsky's The Nutcracker at Stewart Theatre in NC State University's Talley Student Union on Saturday, December 12th at 3 PM.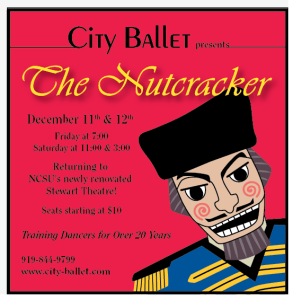 Featuring guest artists from Carolina Ballet, The Nutcracker is an exciting full-length staged version of the ballet, and promises to bring out the magic of the holidays for young and old alike!  Carolina Custom Video will produce a dance recital video of this performance so that the wonder of the season can be relived throughout the year!
DVD and Blu-Ray copies of this holiday classic dance recital video will be available by contacting Carolina Custom Video at 919-319-6888.